I've been wanting to contribute to Mass Appeal since I saw my first issue in 2000 at Getta Clue in Sacramento. That day finally came when I arrived in LA back in November. I got the opportunity to photograph funny man Terry Crews from The Everybody Hates Chris Show for the 44th issue of MASS APPEAL. Yeah!
You can pick it up pretty much any where mags are sold!
The homies shane nash and krishtine de leon also contributed to this issue ☺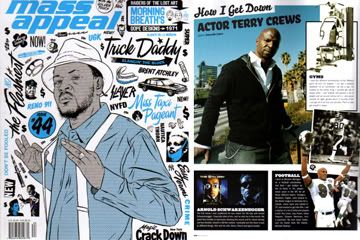 More in Contributor news…….. I got a picture published in ROLLING STONE MAGZAINE…….oh my goodness, I can die happy now… j/k but almost.. So grateful to Quannum Records, especially my girl Lydia, and the Lifesavers for giving me the opportunity to work with them… heck yes!